P1-BNCBHJ/SMAP-141CJ-20
Hand Formable Cable Assemblies from P1dB
Cable Assembly, BNC Bulkhead Female to SMA Male, 141CJ Jacketed Conformable Coax, 20 inches
Specifications

Yes
Conn1_Type (Angle, Mount):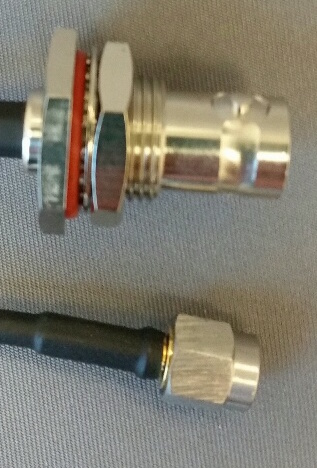 P1-BNCBHJ/SMAP-141CJ-20 is an RF Cable that is part of P1dB's YouForm™ conformable cable assembly series. It is a 20 inch BNC bulkhead jack to SMA male conformable cable assembly that utilizes 141CJ conformable coax with a diameter of 0.168 inches. The BNC cable assembly operates to 3 GHz with a max VSWR of 1.35:1. 
YouForm™ cables are conformable and jacketed conformable versions 085 and 141 semi-rigid coax cables and meet RG402 and RG405 dimensional and electrical specifications. YouForm™ cable assemblies can operate up to 18 GHz, depending on the connector configuration. The advantage of YouForm™ conformable cables over semi-rigid are their ability to be formed by hand multiple times, while semi-rigid cables can be formed only once with special bending tools.