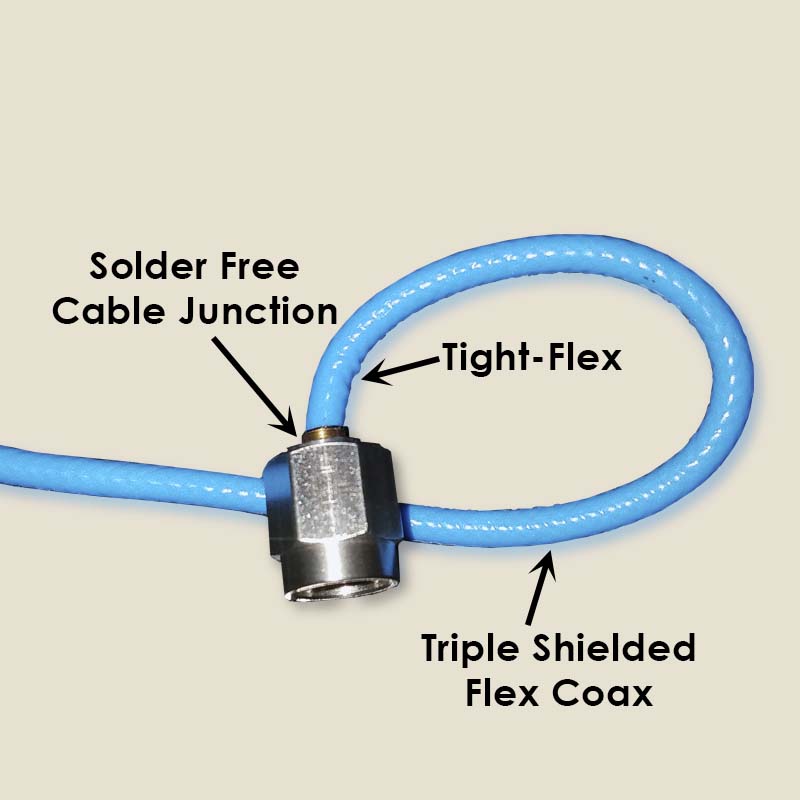 Tight-Flex Cables

TightFlex "bend at the connector"  assemblies are an excellent alternative to right angle connectors.

    For very tight spaces, consider  P1dB's  "Tight-Flex™" cable series with SMP, SMPM, SMA and 2.92mm connector options. Tight-Flex™ assemblies feature a minimum bend radius of 0.2 inch, low loss triple shield construction with an outer jacket of 0.104 inch diameter. Typical Insertion Loss at 10 GHz is 0.8 dB per foot. 
    Tight-Flex™ assemblies are an economical alternative to custom  0.086 Semi-Rigid cables.  The microporous dielectric is the same construction utilized in more expensive test cables with the same phase stability you would expect in high performance solutions. 

                        Evaluation samples are available for many of P1dB's "Tightflex Cable Assemblies".
                                                                    Contact sales@p1db.com
    Tight-Flex™ cable assemblies can operate up to 40 GHz, depending on the connector configuration. Tight-Flex™cable are well suited for installations where the cable is exposed to sharp bends, such as radio housings, rack systems, and connector backshells. The Tight-Flex coax has a triple-shield construction with an FEP jacket, giving the cable excellent durability and RF stability. The connectors available for Tight-Flex™ cables are:
40 GHz 2.92mm Male connector
18 GHz SMA Male connector
18 GHz SMP Female connector
18 GHz SMPM connector
Click Here if you do not find the desiredTight-Flex Cables.
---